job oriented course in bangalore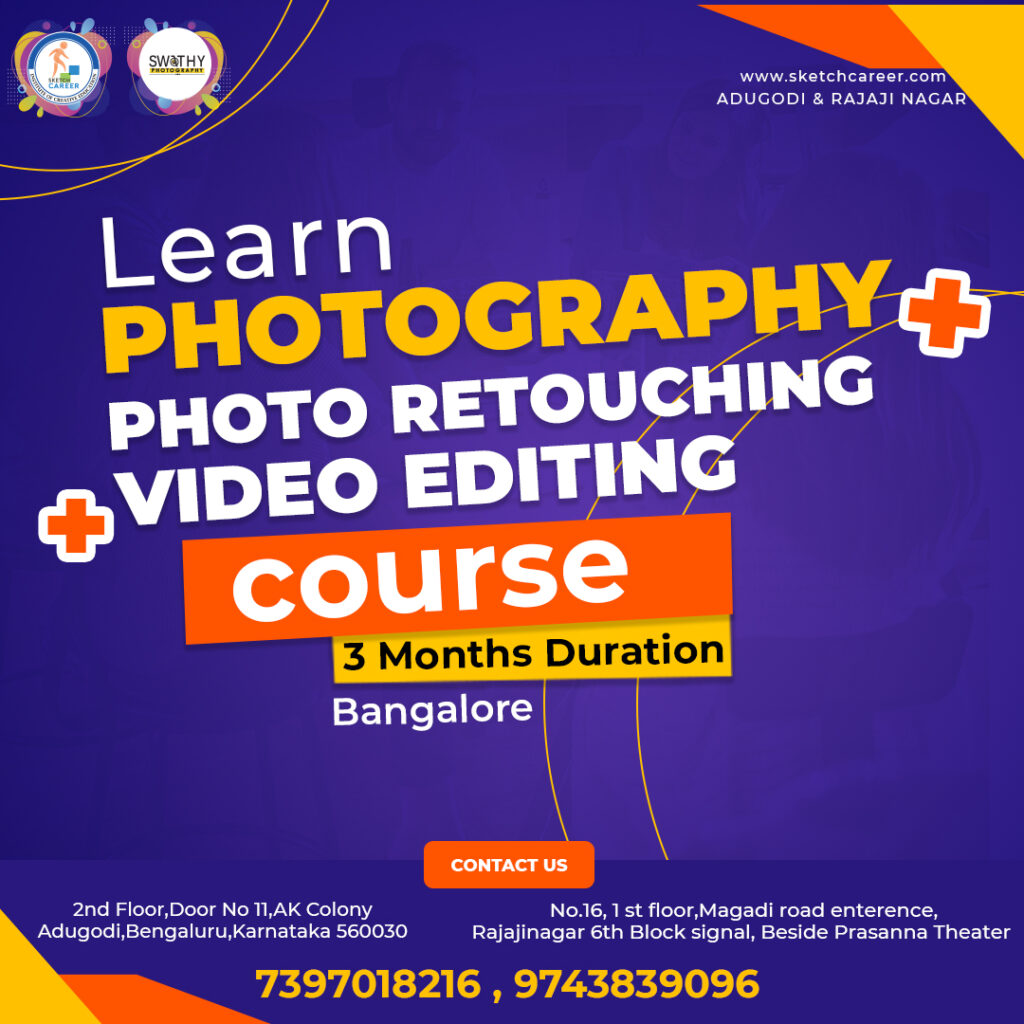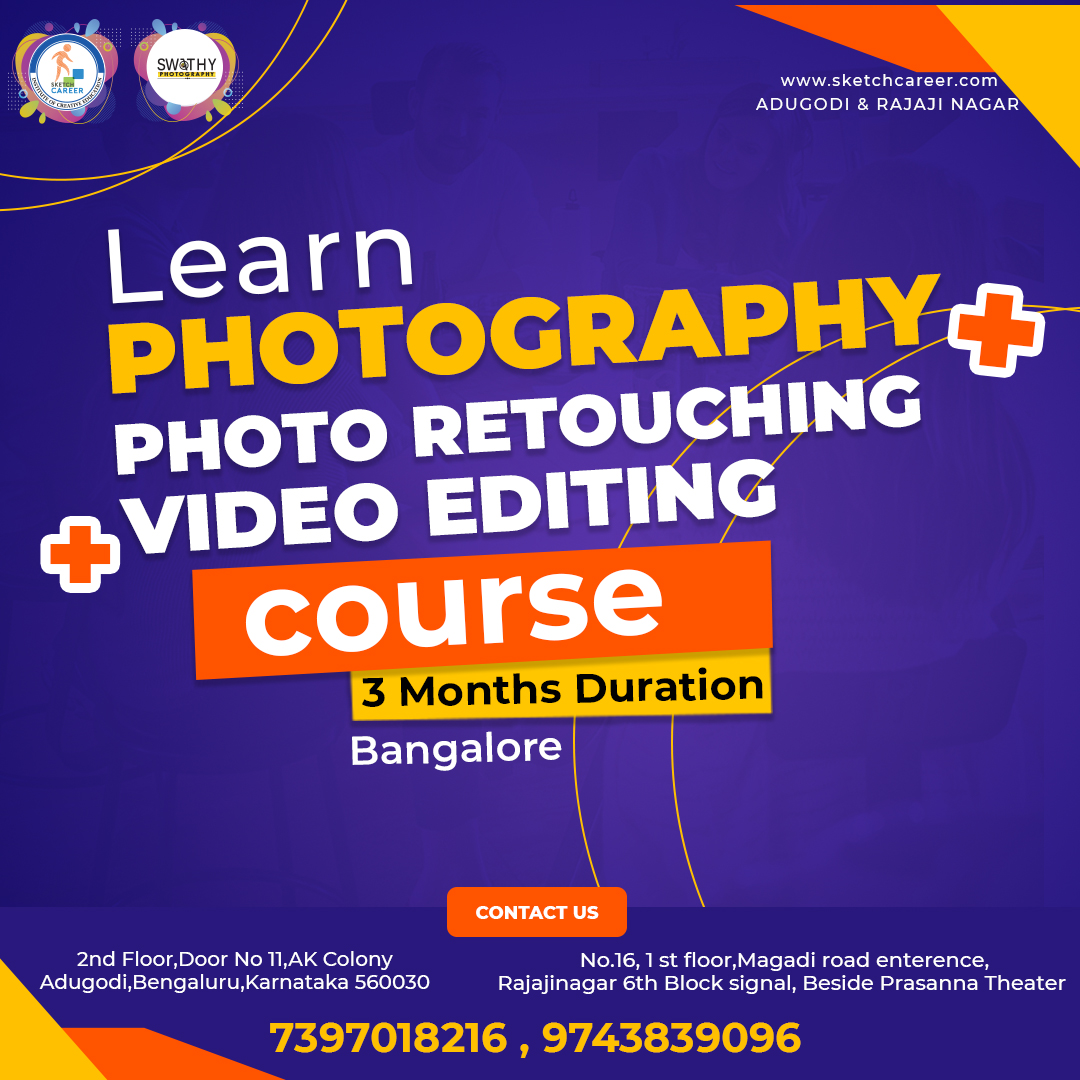 Photography Photo Retouching Video Editing Course
Who is this Course for?
If you are someone who is looking to start a career in Photography or shift your career into Photography, Then this is the right course for you. This course enables you to professionally click photos, edit like a pro, capture videos, and edit like a pro. When you take up real-time projects, You don't just do photography. You will have to do the editing and video part. This course enables you to be the one-stop destination to your clients for photography and its related works.
Software Covered:
Adobe Premiere Pro
Adobe Audition
Adobe Photoshop
Adobe Lightroom
Special features:
More Practical over Theory.
Learn to edit photos like a pro in Adobe Photoshop & Adobe Lightroom.
Learn to take videos and edit them like a pro in Adobe Premiere Pro & Adobe Audition.
Community Building
Photoshoots & Photowalk Sessions.
You will learn Portfolio Preparation.
You will learn Instagram Marketing.
Overall, You will become a Confident Photographer, Photo Editor & Video Editor.
Course Content:
Specialization: Fashion & Portrait Photography
Mind Map & Pre Visualization
How camera works
Introduction to Manual Mode
Camera Modes & Settings
Types of Metering
Exposure Triangle
Impact of movies in Photography
News Pictures
Kit Requirement
Types of Lenses
Framing & Composition Rules
Camera Raw Format
Introduction to Fashion Photography
Color Theory in Fashion
Studio Lighting Techniques
Model Posing Techniques
Moodboard Creation for Fashion
Fundamentals of Photo Editing
Instagram Marketing for Photographers
Final Project & Portfolio Preparation
Become a Retouching Professional
Course Highlight – Photoshop
RAW & JPEG Format Processing
Camera Raw Adjustments
Selection Techniques
Basic Masking Models
Advanced Masking Models
Compositing Techniques
Skin Retouching & Repair
Hair Retouching & Repair
Colour Grading
Layer Masking
Master Dodge & Burn
Advanced Skin Smoothening
Hair Enhancement
Image POP
Beauty Retouching – Eyes & Lips
HDR Toning Techniques
Digital Signature & Watermark
Course Highlights – Light Room
Understanding Workspace & Panels
Exposure Adjustment
Colour Calibration
Retouching Techniques
Beauty Retouching
Colour Grading
Advanced Retouching
Color POP Adjustments
Dodge & Burn
Batch Processing
Creating Signature Watermark
Video Production, Video & Sound Editing
Syllabus:
Introduction to Videography
Camera Settings for Video
Lighting Basics
Understand the Audio
Composition Techniques
Shot Planning
Essential Equipment
Know your gear
Adobe Premiere Pro CC 2020
Introduction
Editing Techniques
Multi-camera Editing
Animation & Keyframe Interpolation
Playing with Video & Audio Transition
Creating Titles
Audio Editing inside Premiere Pro
Masking Techniques
Advanced Masking
Colour Correction
Colour Grading
Adjusting the Speed
Advanced Premiere Pro Techniques
Green screen Editing & Chroma Keying
Motion Graphics
Motion Tracking
Exporting Options
Adobe Audition CC 2020
Introduction to Audition
Basic Audio Editing
Audio Effects & Adjustments
Noise Reduction & Vocal Improvements
Advanced Techniques & Effects
Music Production
Mixing & Mastering
Projects to be Worked On:
Music Video Album
Editing Challenge with Editing Techniques
Cloning & Masking
Multi-Camera Editing
Film Teaser
Motion Film Poster
Cinematic Colour Correction
Logo Animation
Green screen Video
Promotional Advertisement